3 January 1944: Major Gregory Boyington, United States Marine Corps Reserve, commanding VMF-214 at Bouganville, Solomon Islands, led 48 fighters in an attack against the Japanese naval base at Rabaul on the island of New Britain in the Bismarck Archipelago.
Flying a Vought-Sikorsky F4U-1 ¹ Corsair, Bu. No. 17915, Boyington shot down four enemy airplanes, bringing his total score to 28.² He was then himself shot down.
Wounded by bullets and shrapnel and with his Corsair on fire, Boyington parachuted to the ocean only 100 feet (30 meters) below. He was rescued by the Imperial Japanese Navy submarine I-181 a few hours later, and was eventually taken to Japan and imprisoned for the next 20 months under the harshest conditions.
Gregory Boyington was born 4 December 1912 at Coeur d'Alene, Idaho. He was the son of Charles Barker Boyington, a dentist, and Grace Barnhardt Gregory Boyington.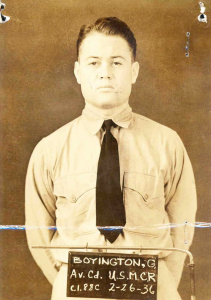 Boyington studied aeronautical engineering at the University of Washington in Seattle. He was a member of the school's boxing team. He graduated in 1934 and then went to work at Boeing Aircraft Company.
Gregory Boyington (then known as Gregory Hallenbeck, after his stepfather) married Miss Helene Marie Wickstrom at the Plymouth Congregational Church, Seattle, Washington, 29 July 1934. They would have three children, Janet, Gregory and Gloria, but divorced in 1941. (Boyington was awarded custody of their children by a court in 1942. While Boyington was overseas, the children lived with his parents.)
Greg Boyington had been in the Reserve Officers Training Corps during college, and had served as an officer in both the Coastal Artillery Corps, United States Army, and the U.S. Marine Corps Reserve.
On 13 June 1935, Boyington enlisted as a private in the U.S. Marine Corps. He was accepted as an aviation cadet 11 February 1936, and trained as a Naval Aviator at NAS Pensacola, Florida. He graduated and was commissioned as a second lieutenant, United States Marine Corps Reserve, 2 July 1937. Boyington was promoted to first lieutenant, 1 July 1940. He served with the fleet until 1941.
Read More about Pappy Here .
© 2019, Bryan R. Swopes